Kidney Stone Clinic
Kidney stones can cause a lot of pain and other symptoms. Our kidney stone clinic in Guwahati, India has the best treatments for both acute kidney stones and prevention of future kidney stones. We have the latest equipment and medications to provide patients with the best care possible. Our team includes Kidney Specialists, Kidney Surgeons, Nephrologists, Urologists and Experienced Nurses, who work together to help our patients.
Even if you need treatment immediately, we can get you in quickly and have your procedure done with little or no discomfort. We will do everything in our power to make sure that you leave feeling relaxed and confident.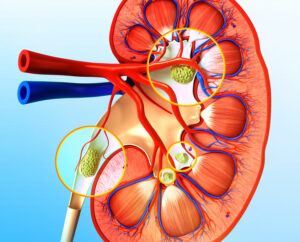 Kidney Stone Treatments in Guwahati
PCNL and URSL-Minimal invasive surgery for kidney stones using technique of PCNL(percutaneous nephrolithotomy),ureteroscopic surgery(Richard wolf Endourology,Germany; Swiss Lithoclast –Master)
Stones that measure 5-10mm in diameter can be removed from the body through a small incision using either of these procedures. These procedures allow patients to avoid more invasive open surgeries. Both procedures require the use of general anesthesia and can be performed as outpatient procedures.
RIRS-Retrograde intrarenal surgery for small stone and some kidney tumors using Laser surgery .
Retrograde intrarenal surgery (RIRS) is a treatment for renal stones that involves removing the stones in an out-patient procedure. This would typically be done in cases where patients are not in need of immediate surgery or other treatments due to illness or injury, and can wait until they can be seen by a doctor.
(Holmium Yag Laser , Power : 30W,Quanta System, Italy; Uretero-Fiberscope, FLEX-X 2,Karl Storz,Germany)
Kidney stones removed with a holmium:yttrium-aluminium-garnet (Ho:YAG) laser. The patients are given general anesthesia and inserted with a scope into their bladder to visualize the stones, then four small holmium:yttrium-aluminium-garnet (Ho:YAG) laser probes are inserted into the urethra one by one. The new technique uses Ho: YAG laser to break the stones in a single pass, and currently blocks 20% of the stone.
ESWL-SDS 5000,GEMSS,Republic of Korea
SDS -5000 is based on electro-hydraulic principle,it reduce treatment time and patient pain,high fragmentation rate,outpatient treatment.No open surgery,no anaesthesia
For a kidney disease consultation and treatment click here